Hilversum, 4 April 2018
Increased H.264 Encoding Density with DTA-2182
The DTA-2182 dual HD encoder card enables the creation of PC-based appliances that require multiple HD-SDI streams to be encoded in H.264 or MPEG-2. This compact PCIe card doubles the encoder density in your server, which is specifically valuable if you need to encode multiple channels and space is limited.
The DTA-2182 complements DekTec's single-channel DTA-2180 encoder card. Both cards share the benefit that all processing for encoding takes place in the board's hardware, meaning that no CPU capacity is absorbed. The PC hosts the encoding control software as well as the application that uses the transport streams produced by the card. An example application is encoding and recording 8 HD-SDI streams on a hard-disk simultaneously, using four DTA-2182 cards.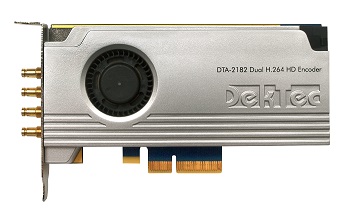 DTA-2182 - Two H.264 encoders on a single low-profile PCI Express card
Professional broadcast-grade encoding quality is ensured by using field-proven Magnum technology, with support for all common HD and SD formats. Each encoder handles up to eight mono or stereo audio channels, using MPEG-1 layer2, AAC or Dolby AC-3 audio encoding.
The card provides two HD-SDI inputs and two real-time ASI outputs. The encoded transport stream is also available on the PCIe bus for further processing in your application. The encoders can be easily configured and monitored with an updated version of DtEnc, which already supports the DTA-2180. To control the two encoders on the DTA-2182, two instances of DtEnc will be running in parallel. DtEnc controls the encoder settings and can stream the encoded video over IP or store it on disk.

DtEnc controlling two encoders on a DTA-2182
It is also possible to create your own Windows- or Linux-based server appliance using the freely available DekTec SDK (DTAPI). The low-profile, short PCIe card fits nicely in small servers. It comes with on-board fan and has its components well protected by a nice DekTec-style aluminum cover, making it easy to create high-quality broadcast-grade solutions at PC prices.
Hilversum, 2 March 2018
StreamXpert Adds Teletext Analysis
Teletext is the latest addition to the wide range of elements already presented by DekTec's Transport Stream analyzer, the StreamXpert®. Teletext has been around for decades and has survived the digitalization of television services. Most television sets support it and most set-top boxes used today include the functionality of retrieving teletext data from the stream and presenting it on the TV set as part of a selected broadcast channel.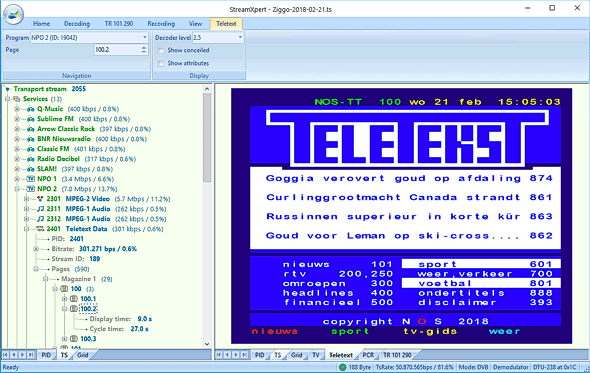 StreamXpert UI presenting teletext data structure and decoding
StreamXpert decodes DVB Teletext (EN 300 472) information and builds the pages as they would appear on a TV screen. An engineer or operator can browse through the pages and verify that the pages decode as expected. The Teletext decoder supports up to level 2.5 Teletext and a subset of level 3.5 extensions.
The pages are visualized in StreamXpert as part of the Transport-Stream tree. All Teletext content is stored in an internal database. The user can zoom in to page or sub-page level and obtain information such as duration time and refresh interval.