Hilversum, 9 June 2020
12-Channel Receiver Card Adds ATSC 3.0 Support (DTA-2139C)
We have released the 3rd generation of our high-density receiver card for monitoring an entire terrestrial or cable network with a single PCIe multi-receiver card. The new DTA-2139C houses twelve (!) receivers to capture any mix of cable (DVB-C, QAM-B/C) and terrestrial (ATSC 3.0, ATSC 1.0 (VSB), DVB-T, DVB-T2, ISDB-T) signals.
All services in the twelve received transport streams / DASH streams are simultaneously available. You can use it to monitor your network in real time, with DekTec's Xpect Mosaic (except ATSC 3.0), with a 3rd-party solution or with your own compliancy-checking application.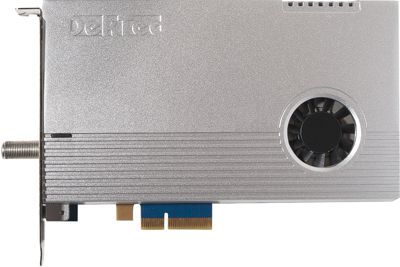 DTA-2139C - Twelve cable/terrestrial receivers, with ATSC 3.0, on one PCIe card.
With the latest hardware update, all all transport streams and/or Dash streams in a cable or terrestrial network can be monitored, including a mix of ATSC 3.0 and legacy ATSC VSB signals. Streams can be monitored for conformity, they can be recorded (compliance recording) or a mix of services can be decoded and placed in a mosaic.
For ATSC 3.0, each receiver is able to demodulate 4 PLPs (Physical Layer Pipes) simultaneously. The same channel can be demodulated by multiple tuners if more PLPs are present.
Since ATSC 3.0 will be introduced later in many regions, along with existing ATSC 1.0 (VSB) services, the DTA-2139C allows all services to be received and transcoded to IP, or to multiplex and modulate received services again on a local cable network. As each demodulator is independent, the user can start monitoring or receiving legacy ATSC 1.0 signals and progress to receiving ATSC 3.0 when such channels are added or converted.
The DTA-2139C is the successor of the DTA-2139B. Several improvements have been made using state-of-the-art technology and the latest generation tuner and demodulator chips. Supporting all major cable and terrestrial standards, it makes the DTA-2139C a universal, inexpensive, high-density PCIe receiver.
For developers, the product comes with our free and field-proven SDK (DTAPI). Applications have access to the complete transport stream or IP stream (ATSC 3.0) from each of the twelve receivers. Additionally, each receiver provides lock status, RF level, MER and bit error rate.
Hilversum, 19 February 2020
Next Generation Quad 3G-SDI/ASI PCIe Card - DTA-2174B
With the DTA-2174B, DekTec's popular DTA-2174 quad 3G-SDI card has an impressive successor. Its attractive price (€725 list!), lower latency and 12G-SDI support on port 1, make this card even more attractive for developers of video production and distribution equipment than its predecessor. All ports support DVB-ASI, allowing mixed compressed/uncompressed applications such as a 4K encoder with 12G-SDI input and ASI output, or a 4K decoder with ASI input and 12G-SDI output.
DTA-2174B - Four bidirectional 3G-SDI/ASI ports (first port 12G-SDI capable).
DekTec Matrix API® 2.0 enables you to create custom applications for the DTA-2174B. Convenient Matrix-API features include directly inserting or extracting audio/video samples or ANC data, pixel format conversion and video scaling.
A block diagram showing the standard firmware loaded on the DTA-2174B is shown in the figure below. This firmware features four independent ports, each configurable to operate as ASI or SD/HD/3G-SDI input or output. Each port can also act as a double-buffered copy of another port to make multiple copies of the same output signal. Ports configured as output can be synchronized to the bi-/tri-level genlock input port.
Block diagram of DTA-2174B firmware variant 1 - 4x3G-SDI/ASI with genlock.
A second firmware variant is intended for applications that require a 4K input or output in the form of a 4x 3G-SDI quad-link or a single-link 12G-SDI interface.
Block diagram of DTA-2174B firmware variant 2 - 1x12G-SDI or 4x3G quad-link 4K with genlock.
A third firmware variant (not shown here) targets 4K encoding/decoding applications with uncompressed input or output over ASI or a scaled down copy of the 4K content for monitoring purposes.
The DTA-2174B is the second member of DekTec's new range of SDI/ASI interface adapters for PCIe. These cards provide different numbers of bidirectional ports, at very competitive list prices. Even better prices are available if you are going to integrate these cards in your product. Please contact DekTec for a quotation with our inviting terms.