Hilversum, 24 July 2018
OTT Manifest Analysis in StreamXpert
So far, the primary focus of StreamXpert® has been the analysis of MPEG-2 transport streams. With the release of version 2.3, OTT analysis adds a completely new mode to the tool's capabilities. OTT streaming is rapidly establishing itself as a mainstream way to reach large audiences, with higher requirements for content availability and quality as a result. It is in the interest of broadcasters and operators to assure that manifest files on its servers are reachable, complete and correct and that the referred streams decode without problems.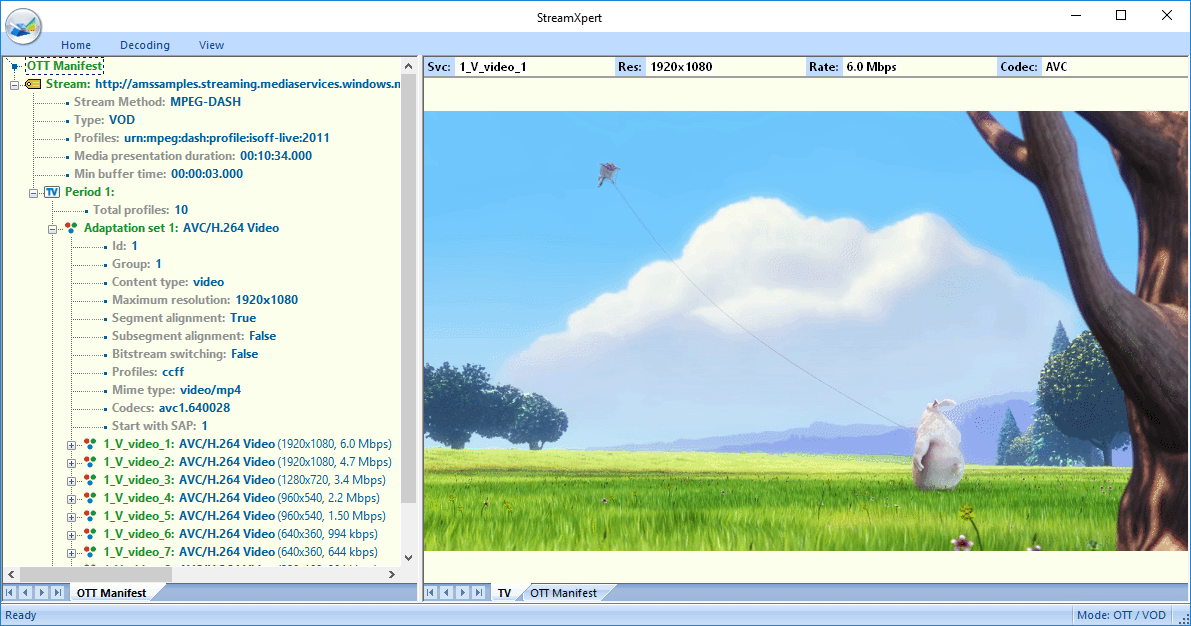 MPEG-DASH Manifest Data and Decoding
The OTT mode in StreamXpert includes decoding and visualization of the HTTP Smooth Streaming (MS-SSTR) and MPEG-DASH manifests in a new OTT Manifest tab. Additionally, MPEG-DASH decoding is supported for both on-demand and live streams containing AVC/H.264 video and AAC audio. It is possible to manually switch between all available profiles for decoding and verifying the quality. An engineer will be able to inspect manifests and check if all stream profiles decode as expected.
This new OTT analysis functionality is included in the standard StreamXpert v2.3 package and freely available to those who have purchased their StreamXpert license or latest maintenance extension less than 12 months ago.
Hilversum, 12 June 2018
SdEye Adds Teletext Decoding and Statistics
It has never been easy to verify Teletext data within an SDI stream. Those days are over, as Teletext analysis has been added as a new feature to DekTec's SdEye application, a powerful tool for the waveform and ancillary data analysis of SDI streams. Now it can also be used to run statistics on embedded Teletext data and decode individual pages.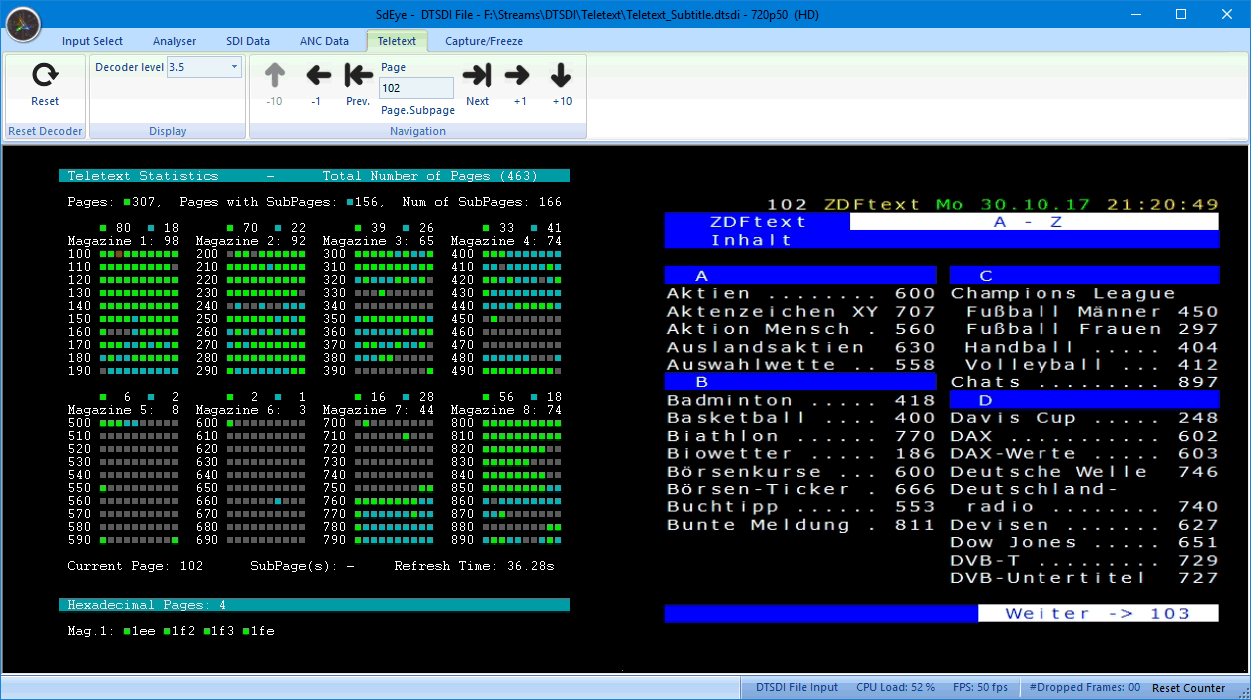 SdEye screenshot with Teletext statistics on the left and decoding on the right
The statistics overview shows - in a comprehensive raster format - which pages are present in the stream. Color codes indicate which of them are single pages and which have subpages. It makes it very easy for an operator to verify whether all pages and subpages are present as expected.
A dedicated Teletext tab lets you navigate through the pages, allowing each page and subpage to be selected for decoding. Operators can check for erroneous characters or other sorts of disturbances.
The SdEye application can be perfectly combined with any of DekTec's SDI (SD/HD/3G/12G) interface adapters. For portable use, the combination with our USB-connected DTU-351 HD-SDI input adapter is particularly popular. Analyzing SDI including Teletext data on a PC or laptop has never been more convenient.
Hilversum, 2 March 2018
StreamXpert Adds Teletext Analysis
Teletext is the latest addition to the wide range of elements already presented by DekTec's Transport Stream analyzer, the StreamXpert®. Teletext has been around for decades and has survived the digitalization of television services. Most television sets support it and most set-top boxes used today include the functionality of retrieving teletext data from the stream and presenting it on the TV set as part of a selected broadcast channel.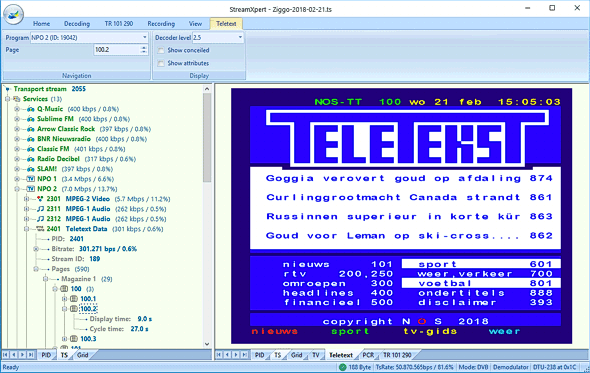 StreamXpert UI presenting teletext data structure and decoding
StreamXpert decodes DVB Teletext (EN 300 472) information and builds the pages as they would appear on a TV screen. An engineer or operator can browse through the pages and verify that the pages decode as expected. The Teletext decoder supports up to level 2.5 Teletext and a subset of level 3.5 extensions.
The pages are visualized in StreamXpert as part of the Transport-Stream tree. All Teletext content is stored in an internal database. The user can zoom in to page or sub-page level and obtain information such as duration time and refresh interval.