StreamXpert Adds DEPI and PCAP Support
StreamXpert can now analyze DEPI (Downstream External PHY Interface), an interface used in cable-TV networks. DEPI is an IP tunnel between DOCSIS core equipment and a "Remote PHY" device that transmits the DOCSIS frames on the coax cable.

Cable headends are optimizing their system architecture by moving to such "Remote PHY" solutions, minimizing the amount of hardware at the endpoint and centralizing the heavy processing.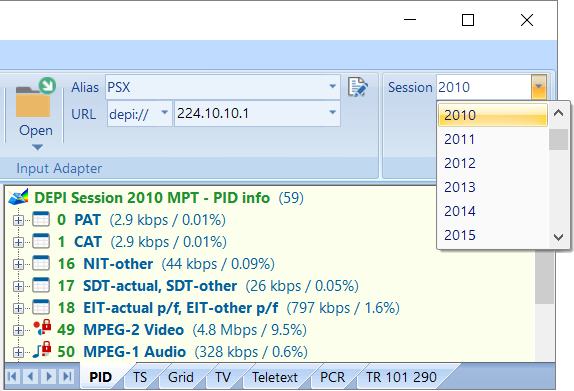 StreamXpert can help cable operators with this transition. The DEPI analysis module unpacks TS packets from the L2TPv3 layer and (optional) UDP protocol. Different 'MPT' sessions can be present, each containing a single Transport Stream. The required session ID can be selected from a drop-down list.
PCAP Offline File Analysis
In addition to real-time IP analysis via any network adapter, StreamXpert now also supports PCAP offline file analysis. So, if you have made a Wireshark PCAP recording, you can start analyzing your UDP, RTP or DEPI streams containing video feeds right away!
The new DEPI and PCAP functionality is included in StreamXpert v2.15 and freely available to those users that have a StreamXpert license with a current maintenance agreement.